Our WA-power generators with Volvo Penta diesel engines as a Twinpack in special generator set container of 800-1.267 kVA available. The Twinpack is also available as a hood assembly on request.
The Twin Pack emergency generators with Volvo Penta engines are characterized for:
• Extended Redundancy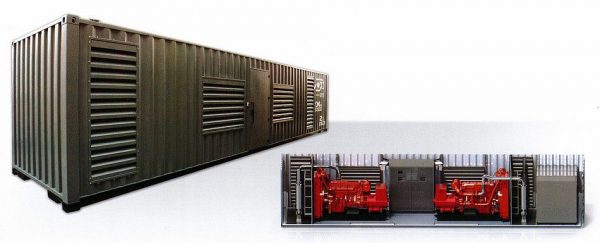 • Load distribution management system
• High efficiency and less consumption
• Extending engine life
• Service can during operation take place
• Low cost

The Twinpack power generators compliant with EC mark and the following provisions:
• EN ISO 13857:2008 Safty of Maschinery
• 2006/95/CE Low Voltage
• 89/336/CEE Electromagnetic Compapatibility
• DIN VDE 0100–560 (2011-03) Low-voltage electrical equipment, emergency power sources
• 2000/14/CE noise exposure maschine outdoor use (modified by 2005/88/CE)
• 97/68/CE emissions and pollutant particles (modified by 2002/88/CE und 2004/26/CE)
Our WA-Volvo Penta Twinpack power generators 1.500 r.p.m /50 Hz and 1.800 r.p.m /60 Hz – diesel
Power generator

kVA 100 %
PRP*

Motortype

WA-V 800 C

800
TAD1344GE
WA-V 920 C

913
TAD1345GE
WA-V 1.000 C

1.000
TAD1641GE
WA-V 1.200 C

1.188
TAD1642GE
WA-V 1.280 C

1.267
TAD1643GE
 *Prime Power PRP. Maximum power for variable load, no time limit per year. The average 24 hours operation should not exceed 80% of that power. For control purposes an thrust harder Maschinery is an overload of 10% for 1 hour within 12 hours permitted. Mode according to ISO 8528. The maintenace is to be considered.
Power generator
Power
KWm.

Consumption
100 % Last PRP

WA-V 800 C

2 x 354 KW
163,00 L/h
WA-V 920 C

2 x 388 KW
181,00 L/h
WA-V 1.000 C

2 x 430 KW
203,00 L/h
WA-V 1.200 C

 2 x 503 KW
232,00 L/h
WA-V 1.280 C

2 x 536 KW
254,00 L/h
Power generator

Fueltank
L

Length
mm

WA-V 800 C

4.500
12.141
WA-V 920 C

4.500
12.141
WA-V 1.000 C

4.500
12.141
WA-V 1.200 C

4.500
12.141
WA-V 1.280 C

4.500
12.141
Power generator

Width
mm

Height
mm

WA-V 800 C

2.432
2.585
WA-V 920 C

2.432
2.585
WA-V 1.000 C

2.432
2.585
WA-V 1.200 C

2.432
2.585
WA-V 1.280 C

2.432
2.585
All data in basic model or series delivery
Basic equipment Volvo Penta power generator
Reference conditions: 1.000 mbar, 25°C, 30% relative humidity. Performance according to ISO 3046th.
Power generator: The complete power generatorset is mounted on a steel base frame. On the steel base frame are specially designed devices, for lifting with a crane or Forklift. The diesel engine and the alternator are connected to a SAE-flange, that even a longer period of operation no possibility of an adjustment exists. The daily fuel tank is integrated in the steel base frame. The starter batteries of 12 or 24 volts are fixed on the steel base frame. Preheating-system 230 Volt DC.
Engine: Volvo industrial diesel 4-stroke direct injection, watercooled 1.500 rpm (50 Hz). Low oil and fuel consumption with long maintenance intervals make a very economic engine application.
Alternator: Mecc Alte alternator, brushless self-exciting, self-regulating with electronic voltage regulator (AVR) according to VDE 0530, 400/230 volts, 4-pole, insulation class H.
Control Panel: Manual start-stop-system with engine shutdown during monitoring, when low oil pressure (LOP), High temperate (HWT) and overspeed. Alternator switch, 3-pole with thermal and magnetic protection. Frequency meter, hours counter, voltmeter, ampere meter, optical and acoustic alarm. Electronic engine speed governor, AMF automatic control panel with ATS, for parallel operation with the mains supply or peak looping operation.
Options: For all power generator is a wide range of accessories available.
Technical changes: We keep ahead.